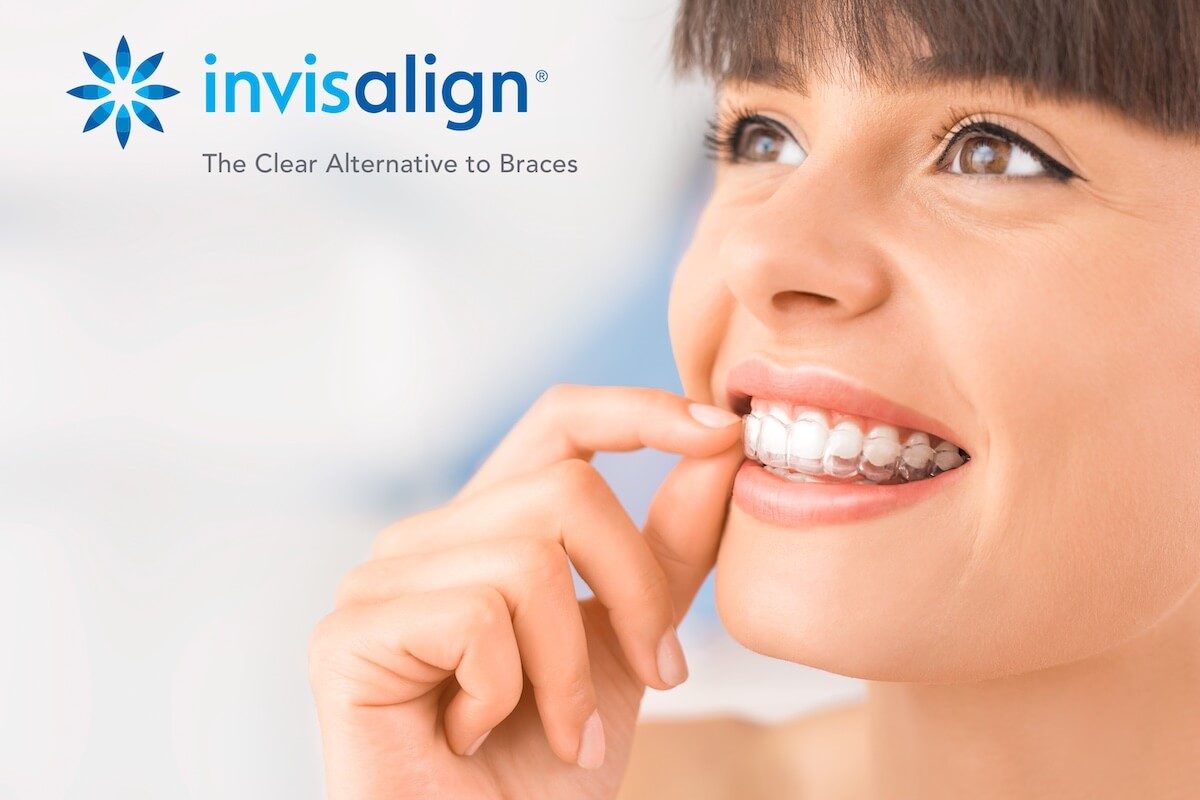 "Brace-Face"
"Metal-mouth"
Maybe you heard kids teased like that back in middle school and talked your parents out of putting you in those silver braces. Maybe now, you wish you had put up with the metal and the mouthiness from the other kids because you're not happy with your smile. You're not alone.
A 2014 survey from the American Association of Orthodontists found that adults make up a record high of nearly 1.5 million orthodontics patients in the U.S. and Canada.  Thousands of those patients are opting for "clear" braces, with Invisalign at the top of the list.  So, how does Invisalign work?
What Is Invisalign?
Invisalign is a brand of clear, plastic aligners that work in much the same way as metal braces do. Invisalign clear aligners are FDA-approved and contain no BPA, BPS, latex or gluten.
How Does Invisalign Work?
Invisalign gradually moves your teeth into the desired position using a series of aligners that your dentist will change periodically. It happens very slowly, so you may not notice a huge difference at first.
Your first aligner will be molded to fit your teeth after the first stage of movement. The grooves of the aligner will push against your teeth until they fit perfectly into the aligner. When that happens, your dentist will fit you with a new aligner to move your teeth to the next stage.
Is Invisalign Right For Me?
There's an easy to find out! Take Invisalign's Smile Assessment online.
What Should I Expect at My First Office Visit?
During your first visit, the dentist will take images of your jaw to evaluate the current position of your teeth in your mouth. The dentist will also make a digital impression of your teeth, which will be used to make your first set of aligners, plan your treatment and determine how long you'll need to wear them.
Once your aligners have been created, you'll come back to the office. We want to make sure they fit perfectly! Your dentist will let you know how often you'll come back for a check-up and receive your next set of aligners. Most patients come in every two to four weeks.
How Often Will I Wear My Aligners?
You'll need to wear them 22-24 hours a day.
How Restrictive Are The Aligners?
What's so great about Invisalign is how easy it is! Metal braces need to be cleaned, and there are a lot of restrictions on what you can and can't eat. The brackets can be damaged by crunchy foods, and the wires can be bent by anything too chewy.
With Invisalign, you can take them out to brush your teeth, floss and eat. They're nearly invisible, so most people won't even know you're wearing them. In fact, you can eat all your favorite foods, brush and floss the same way you normally do and participate in sports and activities.
Is Invisalign Better For My Teeth Than Braces?
Yes! Patients treated with Invisalign have better periodontal health and greater satisfaction during their treatment than patients treated with fixed orthodontic appliances (FOA).
How Soon Can I Get Started?
Right now! Hopefully, we've answered your question, "How does Invisalign work?", and you're ready to take the next step. We're happy to answer any questions you might have.  Contact us today to schedule your appointment.