Dental Implants in Chino
There are several causes of tooth loss. Some of the more common reasons are tooth decay, gum disease, and accidental trauma. If you have lost a tooth, a dental implant is the very best option of replacement. Why? Dental implants are permanent solutions that mimic the functionality of natural teeth. At Silver Smile Dental, we use the finest technologies and the highest quality materials available. Dr. Silverina Chua takes pride in offering each dental implant patient the best care possible.
What are Dental Implants?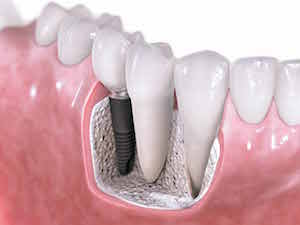 Dental implants are the comfortable, natural-looking, and long-lasting option for missing teeth. Dental Implants are an alternative option from a bridge or a removable partial denture and are a direct replacement for a root of a tooth to hold an artificial tooth or bridge.
Dental implants are a good option for candidates that don't want a bridge or partial denture from tooth loss by periodontal disease, failed root canal, dead tooth, or accidentally knocked their teeth out. Dental implants are a titanium screw that is surgically mounted to your jaw bone using bone-graph where your previous tooth root was attached to. A porcelain crown is then attached to the titanium implant that looks as real as the other teeth in your mouth. The main advantages are great improvement of chewing food and feeling comfortable because they feel like your own real teeth. The success rate of dental implants is very high and is becoming a popular procedure for many patients needing replacement teeth.
Permanent solution

Improved chewing and speaking

Natural function and look
Improved facial appearance

Prevention of bone loss

No special care required
Very sturdy and secure

No diet restrictions

Can be changed or updated
What Should You Expect?
After the normal preparation procedures, Dr. Chua will numb the site of the implant. The next step is to prepare the root of the implant in the cavity of the tooth. We use implants that have a titanium base since they offer the best strength. Once the base is correctly placed, the abutment and crown are affixed upon the implant's base. These three parts together form the dental implant.
Dental implants remain in a fixed position and thus are not removable, unlike dentures. All our dental implants are meticulously set to produce the more natural fit possible. Our aim is for you to talk, eat, and go about your normal activities unencumbered.
Advantages Over Dentures
Dentures are prone to fitting issues, and they can also lead to degradation of oral bones. On the other hand, dental implants face no such drawbacks because they fuse into the jaw bone. Dental implants are also useful during maxillofacial surgical processes since they can help in replacing some of the severely damaged bones. With the help of dental implants, you can once again have your perfect smile back.
The Beauty of Implants
When comparing implants to other dental treatments, implants typically win out regarding functionality. However, the same is true regarding the appearance of implants. There is no treatment available that mimics the look, feel, and durability of natural tooth-like dental implants.
New Patients Welcomed!
To learn more about our cosmetic dentistry options at Silver Smile Dental, call our office. Dr. Chua and her staff are ready to help you restore the beauty of your smile.
Request one Today