Sometimes our patients are looking for teeth whitening solutions for a special occasion like an interview, graduation, or a wedding. At other times they are seeking to improve their smile to ease embarrassment or to increase their confidence. In either case, at Silver Smile Dental, we offer teeth whitening solutions that are tailored to the needs of each patient.
LumiSmile® White In-Office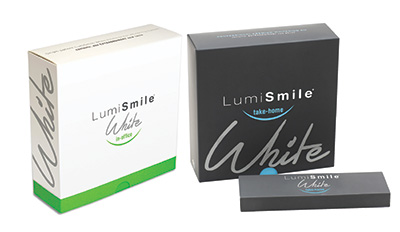 One product that enhances the overall brightness of your teeth is LumiSmile® White. Dr. Silverina Chua makes use of LumiSmile® White In Office and LumiSmile® White Take-Home treatments.
In most cases, a professional in-office teeth whitening session will be more comprehensive and effective than self-directed treatments.  Why? Here are a few reasons:
Our in-office LumiSmile® give instant results. Hence, if you are seeking to have a whiter smile in the fastest way, you'll definitely want Dr. Chua to do the whitening.
Professional treatments utilize whitening and active agents that of a higher grade and strength. We also use safeguards that protect your gums and teeth from damage during the procedure.
LumiSmile® White In-Office uses 25% hydrogen peroxide as the main active ingredient.
LumiSmile® White Take-Home
For patients that desire a more hands-on approach to their teeth whitening or who require a slower progression of whitening, we offer LumiSmile® White Take-Home. A few advantages of coming into our office to get this product are:
Receiving a comprehensive oral exam to ensure that the product will be effective and safe for home use.
Receive a dentist prescribed strength based on the health and color of your teeth.
Typically, at home solutions take 1 to 2 weeks of use to realize the results. Anyone using a home teeth whitening solution should follow the strict instructions of a dental professional trained in teeth whitening. LumiSmile® White Take-Home is available in 16%, 22%, and 32% carbamide peroxide strengths.
Venus White In-Office Whitening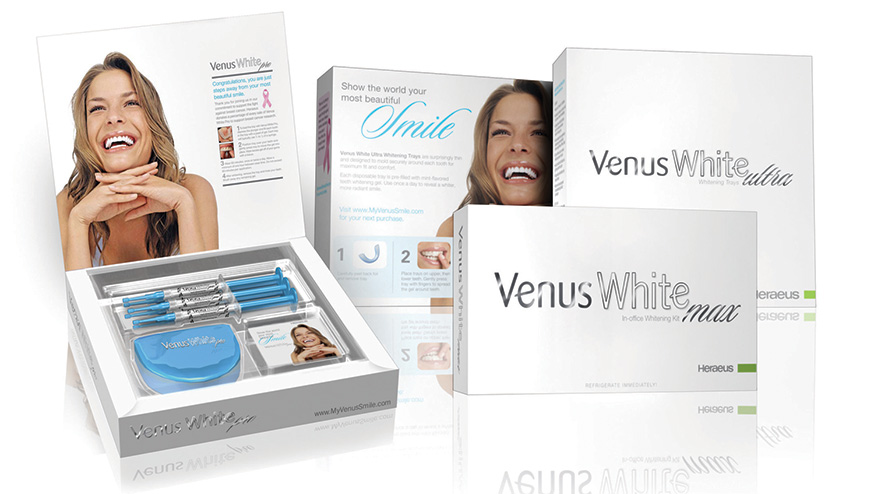 Have you heard of Venus Whitening Max? If not, you may want to get acquainted with it. This teeth whitening product, featured in Men's Health, enables patients to achieve exceptionally bright smiles. We are thrilled to provide this treatment to our chairside teeth whitening options. Below are a few facts about Venus White.
Venus White max is administered in 3 to 5 15-minute sessions by Dr. Chua. As one of the most powerful bleaching treatments on the market, it utilizes a gel with 38% hydrogen peroxide. As such, the whitening is capable of lightening patient smiles up to 8.5 shades within an hour. Since the gel is highly concentrated, it is mixed with potassium nitrate to reduce tooth sensitivity.
During the Venus White treatments, Dr. Chua carefully applies the gel and monitors each patient to maximize whitening. After the treatment, patients are scheduled to for a follow-up to ensure the effectiveness and thoroughness of the whitening.
How Long Does Venus White Last?
Most of our patients enjoy the effects of their treatment for 6 to 12 months. This time period can be increased or reduced by one's personal habits and oral hygiene regimen. Additionally, patients can have in-office touch-up sessions or use at home Venus White treatments that we have available.
Why Choose Silver Smile Dental for Your Venus White Treatment
Dr. Silverina Chua is a highly trained and recommended dentist with nearly two decades of dental expertise. She understands that every patient is not capable of safely utilizing teeth bleaching or whitening procedures. Hence, every patient undergoes comprehensive exams to verify that their oral health is at a level to withstand the treatment.
Even in instances where patients are not able to safely have teeth whitening, Dr. Chua is often able to help them to improve their oral health and appearance through alternative treatments.